Max Gentlemen Sexy Business!
Max Gentlemen Sexy Business!
Home
Search
Deals
Sales
Languages

EnglishEN
RussianRU
GermanDE
SpanishSP
ChineseCH
FrenchFR
PolishPL
TurkishTR
SwedishSW

Companies

Summary
2K2K
ActivisionAc
EAEA
BethesdaBs
KleiKl
ParadoxPd
SEGASe
UbisoftUb
ValveVl
WarnerWa

Genres

ActionAc
StrategySt
RPGRp
IndieIn
AdventureAd
SportsSp
SimulationSi
Early AccessEa
Ex Early AccessEe
MMOMo
FreeFr

Tags

Summary
AtmosphericAt
CraftingCr
ExperimentalEx
Female ProtagonistFP
KickstarterKS
Open WorldOW
RemakeRe
Space SimSS
StealthSt
Warhammer 40KWH
ZombiesZb

Years

Summary
201717
201616
201515
201414
201313
201212
201111
201010
200909
200808

About
Feedback
Login
Register
Max Gentlemen Sexy Business!
Max Gentlemen Sexy Business!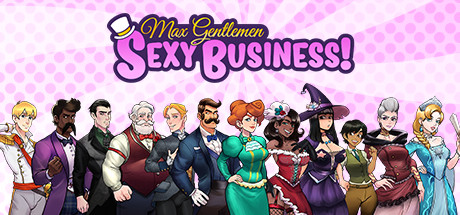 The premiere Victorian Business Tycoon & Dating Simulator. Your family business has been stolen from you! Forge sexy partnerships in the sheets while crushing rival companies in the streets to become England's largest monopoly and reclaim your family honor.
Store | Hub | SteamDB | Site
Developer: The Men Who Wear Many Hats Publisher: The Men Who Wear Many Hats
Genre: Indie, Simulation
Languages: English
Tags: Sexual Content (105), Simulation (97), Nudity (94), Indie (88), LGBTQ+ (72), Dating Sim (54), Mature (46), Character Customization (26), Visual Novel (26), Management (25), Comedy (20), Economy (18), Replay Value (17), NSFW (16), 2D (16), Funny (16), Historical (16), Singleplayer (9)
Category: Single-player, Steam Achievements, Steam Trading Cards, Steam Cloud, Remote Play on Phone, Remote Play on Tablet
Release date: Feb 25, 2020
Price: $19.99
Old userscore: 92% Owners: 20,000 .. 50,000
Followers: 8,878
Peak concurrent players yesterday: 25
YouTube stats: 7 views and 9 comments for top 50 videos uploaded last week, 1 new videos uploaded yesterday.
Playtime total: 12:35 (average) 12:35 (median)
Steam Spy is still in beta, so expect major bugs.
Owners
Audience (2 weeks)
CCU (daily)
CCU (hourly)
Followers
Reviews
More like this
Related
Tags over time
Playtime (total)
Playtime (2 weeks)
Max Gentlemen Sexy Business! Это уморительный и щекотливый бродяга по Лондону викторианской эпохи в качестве социальной элиты.
Ваш семейный бизнес был украден, и вы должны сотрудничать с другими влиятельными руководителями, бороться с конкурентами и вернуть вашему бизнесу былое величие.
Руководство по деловой стороне

Оптимизация членов совета
Money Maker: либо ваш первый, либо второй руководитель (в игре будет много районов для завоевания в этой отрасли, поэтому зарабатывание денег будет становиться все более и более эффективным).
Предпочтения руководителей
Сэмюэл Финч (бонус Мокси на одну неделю после путешествия).
Пенни Фартинг (бонус Мокси, находясь в банке).
Головорезы: от 3 до 5 руководителей (в зависимости от того, сколько у вас стульев для правления).
Предпочтения руководителей
Макс Джентльмены (бонус мокси, пока в боксерском зале).
Пип Уиппл (бонус Мокси во время борьбы с соперниками).
Сэмюэль Финч (бонус Мокси в течение одной недели после путешествия, если он не работает в качестве Money Maker).
Fanny Shufflebottom (небольшой бонус Мокси в дневное время: с 6 утра до 6 вечера).
Влад Nibblesome (небольшой бонус мокси, когда солнце садится: с 6 вечера до 6 утра).
Рекрутер: начиная со второго прохождения, вы в конечном итоге получите актив синергии в бутылках после завершения четвертого района (на полпути прохождения), который создает общий пул сотрудников.
Предпочтения руководителей
Bonbon von Valentine (бонус Мокси в трущобах).
Поэтому исполнительный совет может состоять из:
Производитель одних денег.
3-6 Руффианцев.
Сэмюэль Финч и еще один путешественник.
1-4 ювелира (по мере необходимости).
0-4 руководителя в офисе.
Микро-Управление

Битвы с боссами
В подавляющем большинстве контролировать район.
Прежде чем встретиться с окружным боссом, подумайте о профессиональном развитии кулачных боев.
Стремитесь к 10x (сила босса нападения) сотрудников на Ruffian.
Разрешите всем хулиганам полностью отдохнуть перед объявлением войны.
Отправьте как можно больше хулиганов на городскую площадь в самом начале битвы с боссами.
Диверсии
Если вам не нужны отношения с руководителями, вы должны выполнять только «мероприятия», пока у вас не будет более 50% морального состояния и более 50% репутации. Положительные преимущества получат одобрение более 50%.
Если вы не хотите отношений с руководителями, вам не нужно обедать с ними.
Путешественникиъ
«Протокол путешествия Самюэля Финча»
Каждое утро понедельника отправляйте Сэмюэля Финча в Эдинбург для однодневной поездки. Поездка настолько воодушевляет его, что он приносит бонусную смелость до конца недели.
Отправьте другого руководителя (который не является Money Maker, Ruffian или Recruiter; и, следовательно, не обновлен) в Касабланку для 5-дневной поездки, чтобы получить тоник.
Тоники
Дайте каждый тоник кулачного боя своему первичному хулигану (Макс Джентльмен или Пип Уиппл).
Дайте каждый тоник усов первичному рекрутеру: Bonbon von Valentine.
Стоять в очереди
Чтобы минимизировать умственную когнитивную нагрузку.
Пусть руководители полностью отдохнут в комнате отдыха. Руководителям требуется только до 6 часов отдыха (по сравнению с 10 часами для деловой активности).
Руководители, возвращающиеся в комнату отдыха, будут автоматически размещены с правой стороны очереди.
Назначьте руководителя на левой стороне очереди для его оптимальной задачи (обычно: борьба с соперниками на городской площади), когда они полностью отдохнули.
Исключение: «Протокол путешествия Сэмюэля Финча».
Исключение: если вокруг боксерского зала, парикмахерской или трущоб есть толпа ликующих людей; затем пошлите столько руководителей в толпу приветствующих, сколько сможете.
Исключение: Если ссуда на выплату золота должна быть выплачена в течение 7 дней или меньше, отправьте на фабрику как можно больше руководителей.
Фискальные критерии

Стипендия купца
Будьте готовы иметь около 40 золота в наличии, когда торговец прибывает раз в две недели. Доступные активы почти всегда выгодны.
Валюта
Предлагаемые методы учета включают в себя.
Не существует предсказуемой причины иметь более 2 миллионов фунтов стерлингов в валюте (даже в качестве чрезвычайного фонда). То есть может возникнуть необходимость приобрести 400 золотых слитков.
Прочитав миллион фунтов, подумайте о профессиональном развитии кулачных боев.
Прежде чем встретиться с окружным боссом, подумайте о профессиональном развитии кулачных боев.
Кулачный бой
Наличие 3200 кулачных ударов (включая бонусы от тростей и Королей) для всех хулиганов достаточно для остальной части прохождения.
Таким образом, обучение 5-7 королей достаточно.
Наличие Ruffian с 1000+ кулаками довольно удивительно (как и подразумевает достижение).
Усы
Иметь рекрутера с 1000+ усами довольно удивительно (как и подразумевает достижение).
Нет необходимости развивать какого-либо другого исполнителя до 50 усов.
Would you give me the honor of… being my business partner?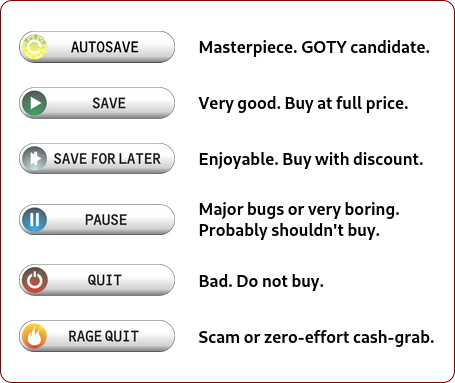 Max Gentlemen Sexy Business starts out with you, an incredibly rich person, finally returning home after your most recent grand adventure. What your grand adventure entailed depends on what you picked out of a couple choices. After retelling it to your Business Maid and Battle Butler so your adventure can be told to the general public, you're arranged to be knighted to give it a perfect ending. Well, more specifically your family business as you can't exactly get knighted again. However, when it came time to present your paperwork, it couldn't be found. Your rival has stolen both your business and your fortune while you were away. Curses! Before all hopes were lost, you luckily get help from an Angel Fullbody. You happen to share the same rival as Angel Fullbody and she wants your rival to lose so she loans you some money to start another business.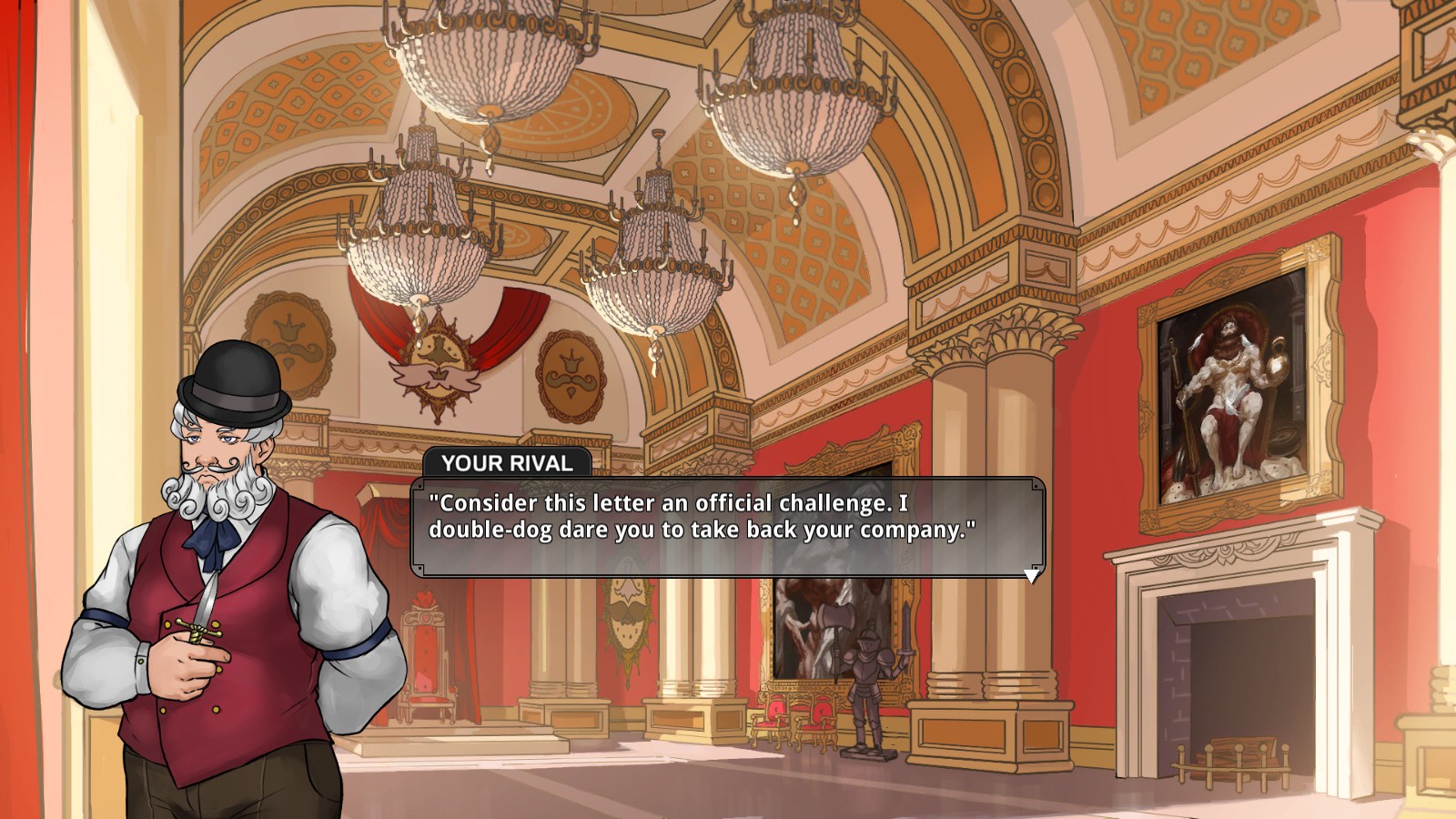 Now that your new business is up and you picked your first business partner (aka executive), you're ready to get right into managing your business. There are a couple things you will have to worry about if you want to successfully beat your rival. While you'll only start with only one executive and one board chair, each executive has differing levels of skills that need to be trained or assets to gather. First, and most importantly, each executive specializes in one market and the number of shares you hold will depend on how much they'll make when at the Trade Building. Then there is the mustache skill, trainable at the Barbershop, which determines how many employees they'll recruit in the Slums and fisticuffs, trainable at the Boxing Ring, which determines how much damage they'll do. Fisticuffs and employees together will let you successfully take down rival companies in Town Square. Employees act like health as each hit will deplete them depending on the fisticuffs level and once the rival runs out, you'll win their shares, a reward, and be one step closer to the district boss. District bosses have to be defeated in three minutes (you can try again) so you can move on to another district and be one step closer to defeating your rival.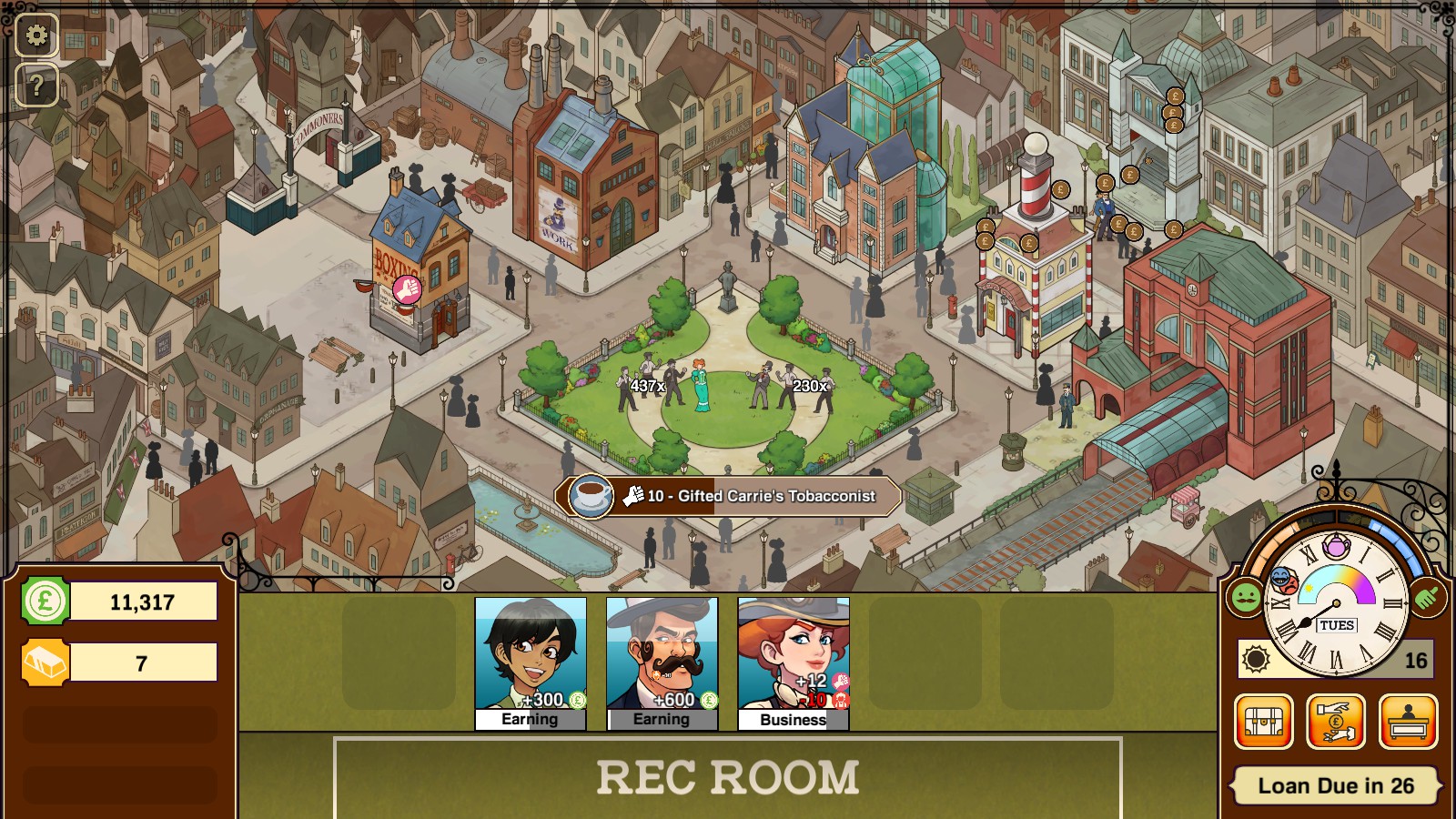 So basically, you'll be sending your executives to different buildings (kind of like HuniCam Studio if you ever played it). However, executives can't be working all the time as their moxie will run out and they'll need to rest. Since one executive can't gather money, train up, gather employees, and fight, you'll have to figure out which executive will have what job. So a couple may focus on training up and gathering employees to defeat rival companies while one or two will only worry about making money when it's their turn. Each executive does have a unique skill to somewhat influence what job they'll have as they'll half their moxie usage if the condition is met. So someone like Penny Farthing will most likely be relegated to making money as she gets a bonus at the trade building (let's just hope your money makers get lucky and control the most shares rather than one of your fighters). Of course, once you reach the point where some executives will be neglected skill-wise there are a few alternatives for them. You can send them travelling to get items or equipment once you unlock the train and buy routes; you can send them to your Executive Office to produce favors you can trade for money or other resources, or you can put them to work if you need money fast while your fighters are resting.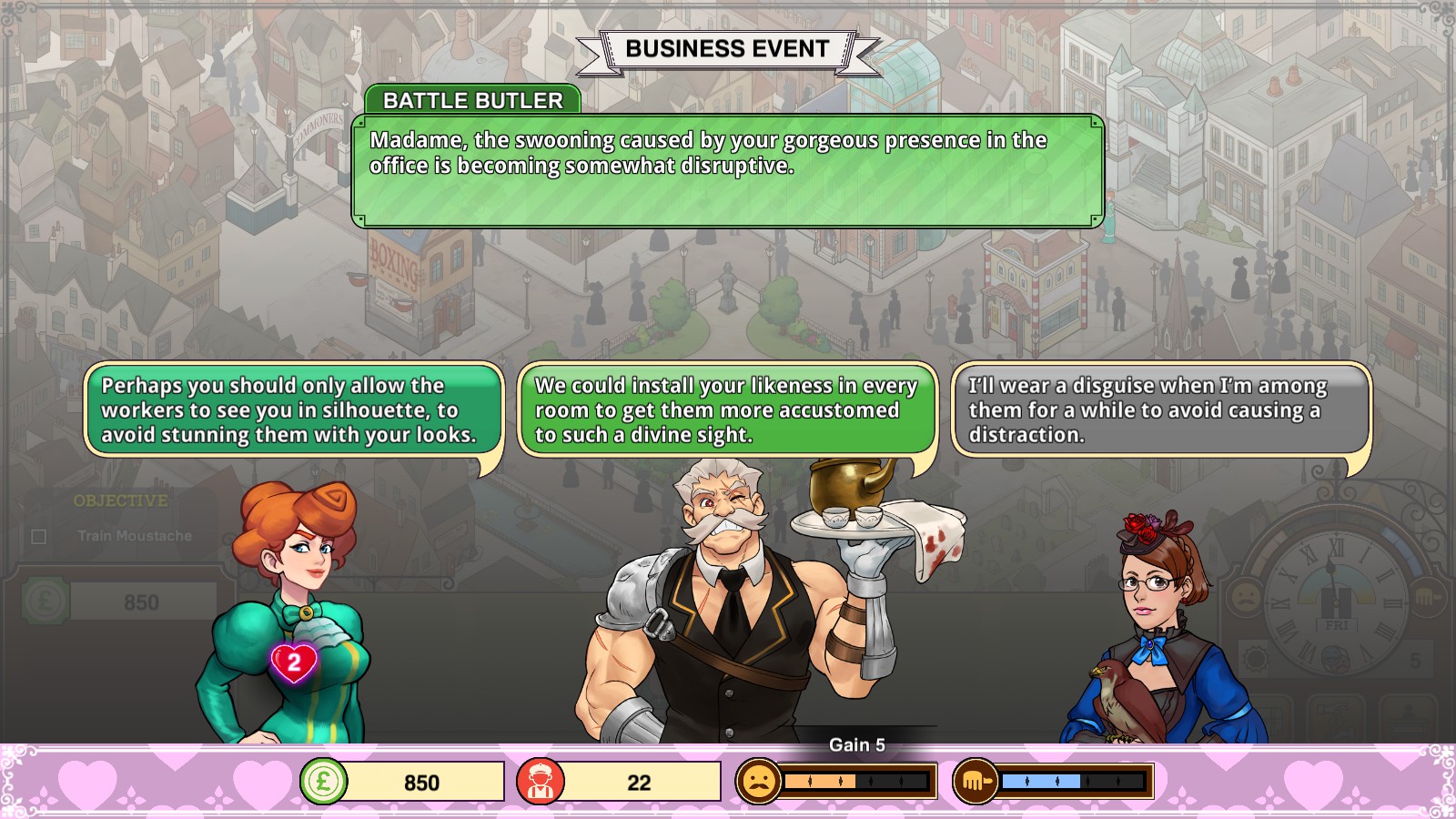 An event will occur almost every day as well. There are business events where you choose between three options that will either increase or decrease affection, money, employees, morale, and/or reputation. Morale and reputation in particular are important to keep up as high morale will spawn parties outside a random building so assigned executives won't use any moxie during that time and high reputation will spawn cheering crowds at the Town Square which will guard your executive's employee pool. The weekends are reserved for executive galas and merchants. To get access to them you'll have to pay an upfront cost to either get a new executive or a new asset depending on the week. Grabbing assets gives you a bonus, like increasing how much fisticuffs you'll gain at one time, or unlock more board seats.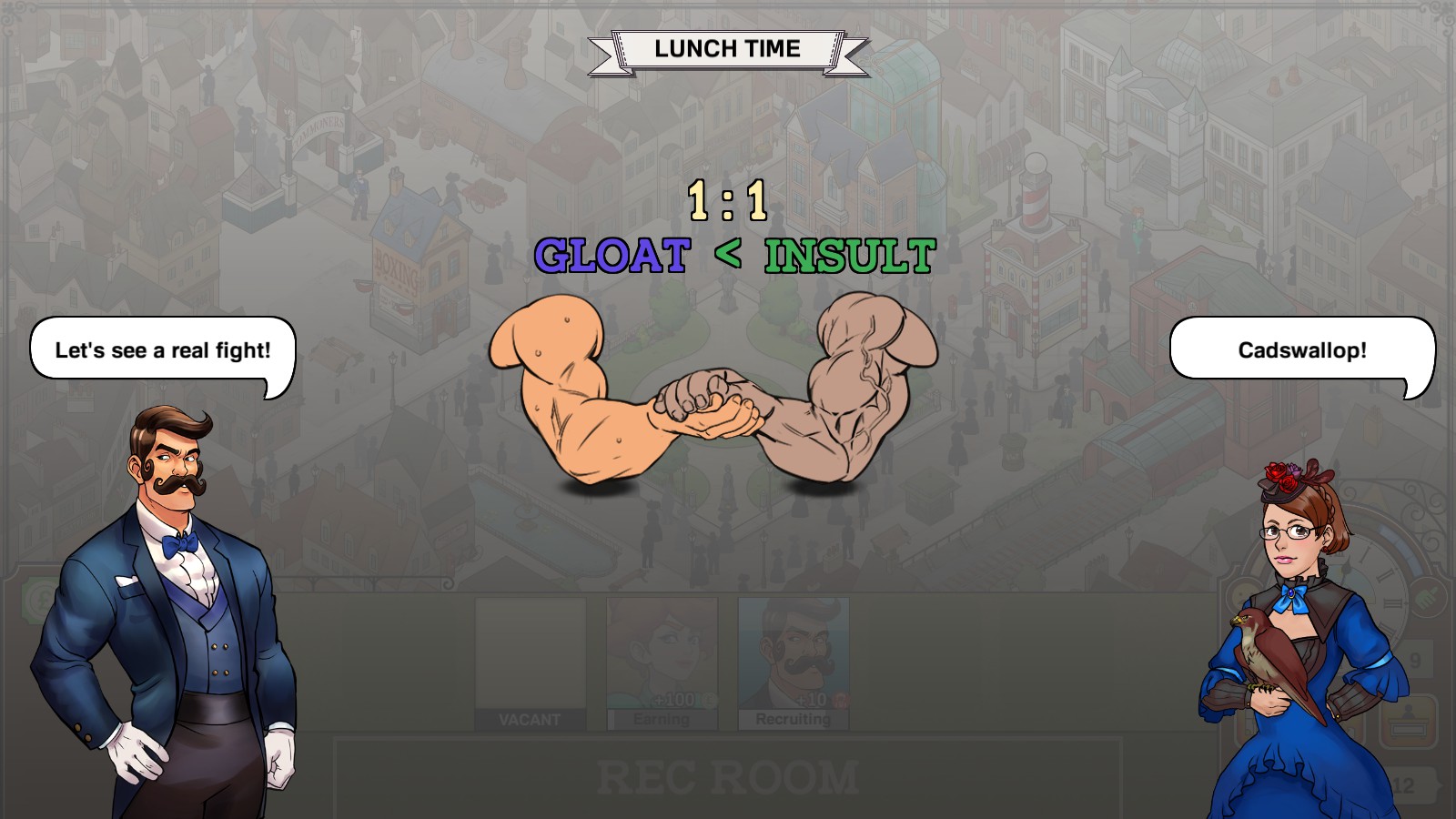 Lastly, once lunch dates are available, you'll be able to play a minigame to get a chance at increasing an executive's affection level. Lunch date minigames are pretty hit or miss in my opinion. You'll mostly run into the rock-paper-scissors wrestling game or the tea making game where you guess how they take their tea, with blackjack popping up less often, and a massaging minigame showing up after crossing a certain relationship level. Depending on how well you do, you'll either gain 0-3 hearts, which can be frustrating as the only way to get affection is through finding and gifting flowers. Raising your relationship level doesn't necessarily give you much of an advantage other than more equipment slots, but it does let you continue their date storyline, unlock artwork, and unlock more costumes for them.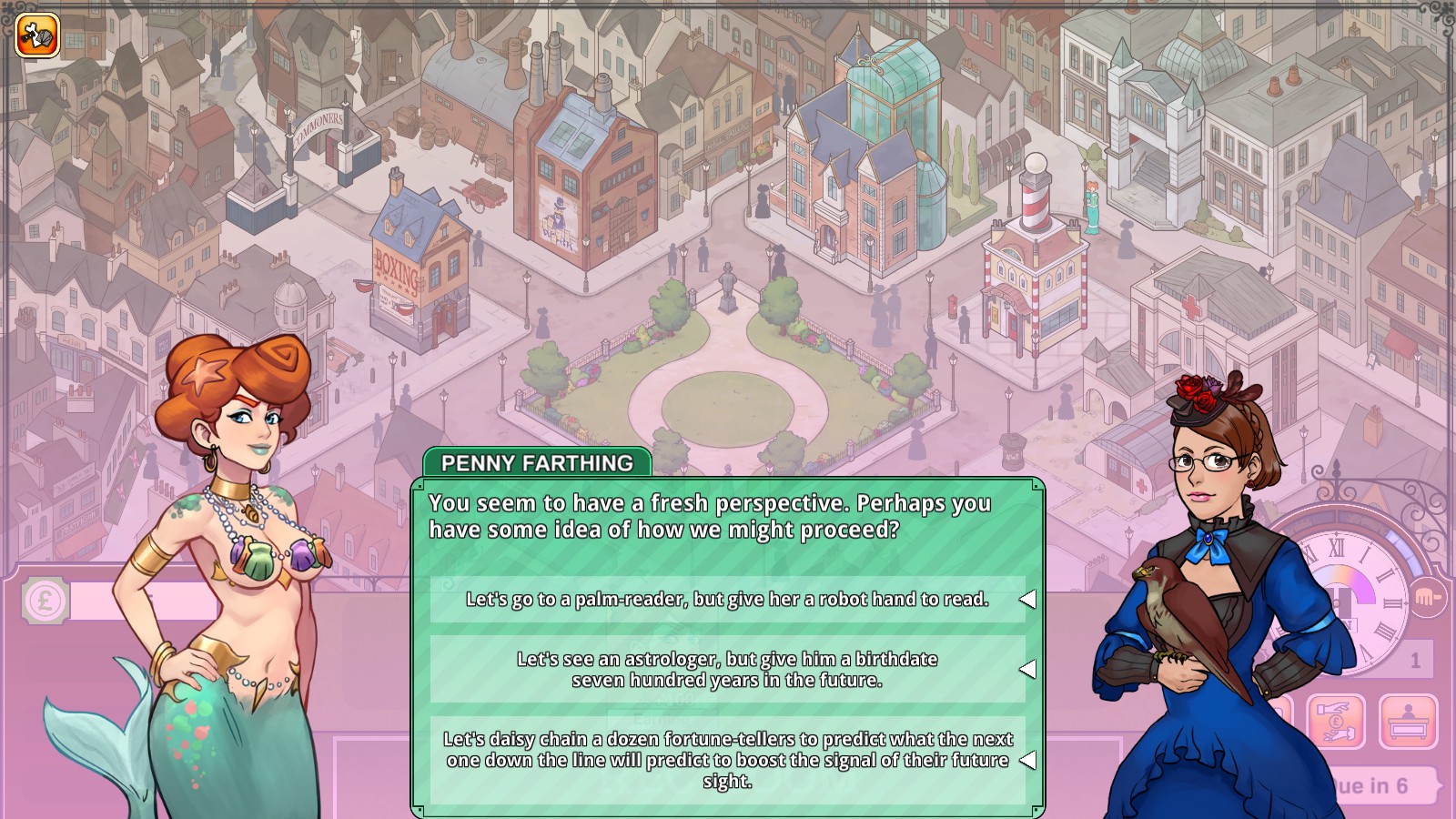 Remember that loan from Angel Fullbody? Well, don't think you can just bail on it. If you don't pay it in full, your game ends. However, paying your loan gives you perks. Paying them on time will give you access to buildings you need (as you only start with the Trade Building, Town Square, and Slums), lunch dates, more executives, and guaranteed board chairs. However, I don't recommend paying off your last loan fully until the very last second. Once you pay all three loans you're then given a week to beat your rival. If you can't, you'll either have to accept defeat or pay 100 gold to extend your deadline. Worse yet, the price for an extension increases by 100 each time. So if you weren't already close, you're pretty much screwed. Personally, I was so hours away from losing as I couldn't make up the gold in time before my executives somehow won against my rival.
After you beat your rival for the first time, you'll be treated with a reveal of the true villain. Once you start a new game, the story will include the true villain who has, you guessed it, stole your business and your family heirloom. The game plays similarly from here, but there are more districts to conquer and another loan that will give you the ability to make Kingsmen to increase damage.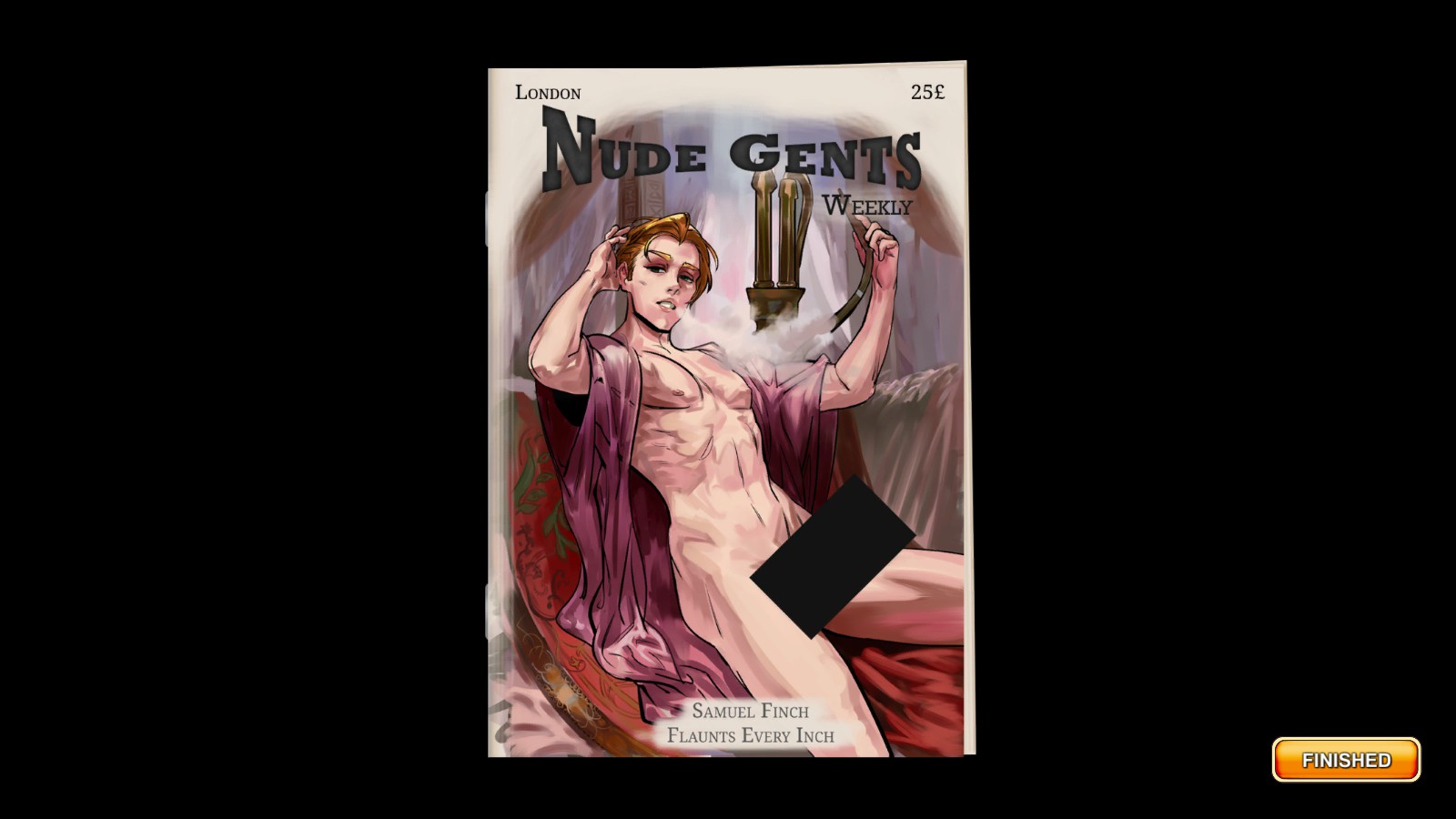 Max Gentlemen Sexy Business' negatives mostly depends on your preferences. If you're coming in expecting emphasis on the dating sim aspect, you'll probably find it disappointing as it's rather light on it. Each executive does have their own unique storyline emphasizing their interests and traits that spawns through all their dates, but you'll have to get lucky with the lunch date minigames and find a lot of flowers. Those coming in mostly for the explicit content will probably be disappointed also as the most it goes is having revealing clothing and nude art (the sex scenes are quickly described in a couple of lines from what I've seen in the four executives I've romanced). While the voice acting was great, there isn't much of it and it made me wish for more. Lastly, I wished there was also a speed-up button.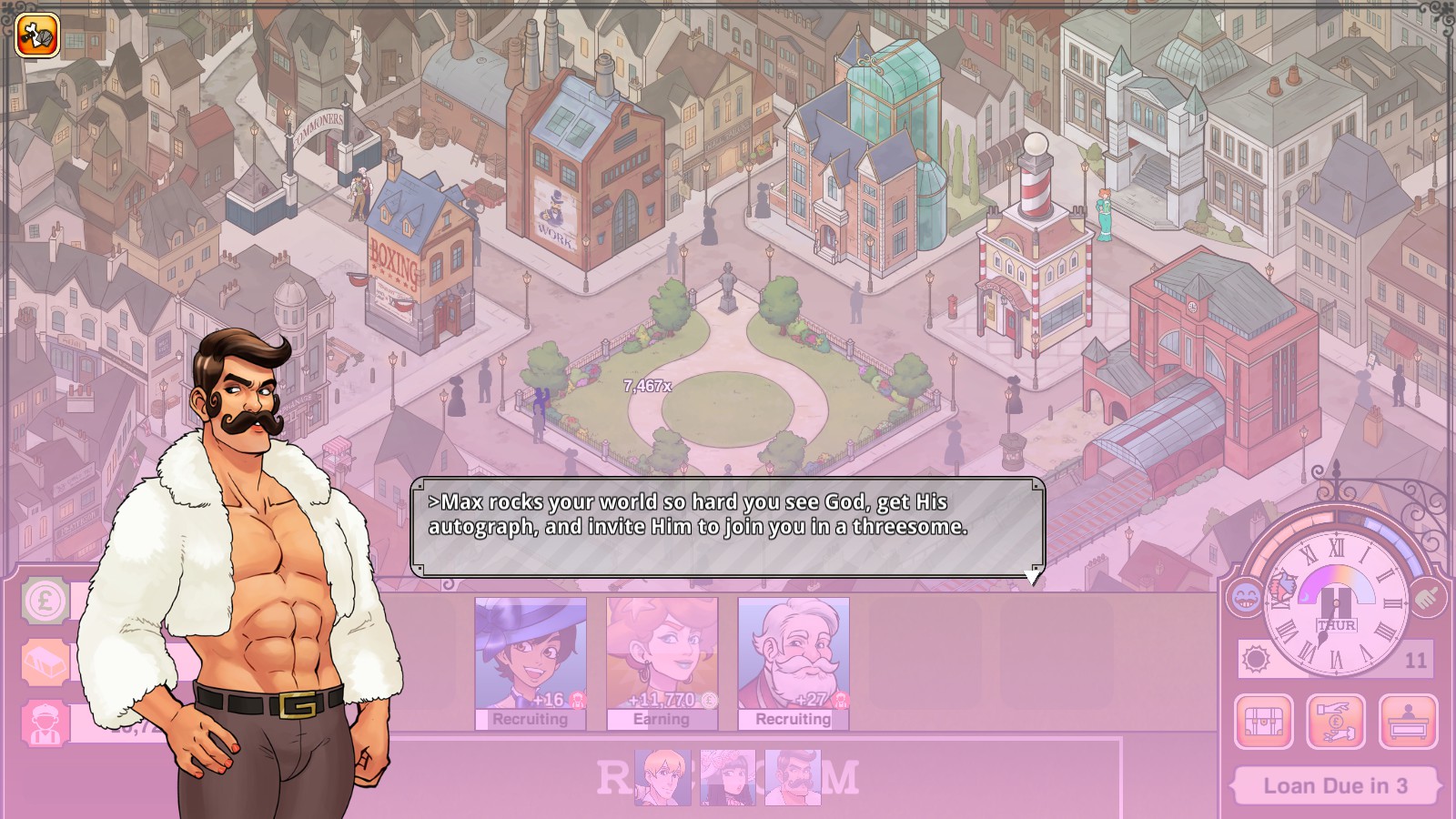 Verdict
I'm pretty much dead neutral towards Max Gentlemen Sexy Business. I did enjoy the level of silliness it often went to and the characters, but I feel like I was just passively going through the business management part with spikes of stress as the load deadline started rearing its head and I didn't enjoy most of the lunch dates available. Though, it did keep me under the constant "one more day" loop. Maybe I was just expecting more of the dating sim part than what was intended. Either way, Max Gentlemen Sexy Business will be perfect for anyone who loves management sims and don't mind having light dating sim aspects. Each playthrough is about 5-6 hours long so if you're behind on a podcast or a video you don't have to pay attention to the visuals, it would be a good time to put it on while playing. Just keep an eye on the game (or keep one earbud out) so you can switch executives when necessary.
If you're in for the business management, but not really sure if you'll enjoy the silly writing or the characters enough to date them, there is a Kickstarter demo that you can still download. It doesn't reflect the gameplay, but it'll give you a taste of the characters and how everything is going to be written in the full game (I even noticed some lines that I remember reading from the demo).
Пойдет ли Max Gentlemen Sexy Business! на моем ПК?
Проверьте параметры ПК для Max Gentlemen Sexy Business!
Необходим 64-битный процессор и операционная система.
Встроить на сайт
Вы можете вставить таблицу требований выше на свой сайт или блог, скопировав адрес изображения ниже.
Минимальные требования Max Gentlemen Sexy Business! на Windows подразумевают операционную систему Windows 7 or higher. Ваш процессор должен быть как минимум 2.2 GHz. Минимальный размера оперативной памяти — 4 GB. Что касается видеокарты, то это должна быть как минимум DirectX 9 Compatible Graphics Card, которая поддерживает Direct X Version 9.0a. Вам так же необходимо иметь 3 GB свободного дискового пространства.
Необходим 64-битный процессор и операционная система.
Встроить на сайт
Вы можете вставить таблицу требований выше на свой сайт или блог, скопировав адрес изображения ниже.
Если у вас Мак, то требования Max Gentlemen Sexy Business! начинаются с такой операционной системы: OS X. Процессор нужен минимум Anything from the last 5 years. Минимум 4 GB оперативной памяти. Наконец, игра требует 3 MB свободного места на диске.
Вы можете купить Max Gentlemen Sexy Business! напрямую в Steam или на одном из маркетплейсов ниже. Обычно, игры на маркетплейсах дешевле, и вы можете сэкономить до 80%! Проверьте цены ниже:
FEATURES
12 magnificent gentlemen and ladies to date – Hours of absurd dates and stories. Over 100 fun and sexy outfits to unlock. Collect provocative art for your "private gallery."
Manage your executives – Assign executives to tasks to raise their skills, fight rivals, buy money and more!
Make your very own Gentsona – With our robust character creator, there are limitless combinations! You even get to choose your own business tycoon pronoun.
Date anyone and everyone – There are no limits to your romantic proclivities. Max Gentlemen Sexy Business! is LGBTQ friendly!
Nudity! If you want. – Using our cutting-edge content filter, you'll only see what you want to. Character specific settings and "spoiler tags" allow you to fine tune your exploits to your liking.
Unlock new assets and characters through the replayable campaign. Create and then defeat your very own lifelong rival to reveal who the true mastermind is.
Partial VO with over 16 voiced characters.
Live out your Victorian tycoon fantasies to the maximum in this love letter to all things genteel.
Max Gentlemen Sexy Business! Is a game that was created to both contain nudity and mature content in a mindful manner. We've taken great care to be inclusive and respectful while we crafted our world. We hope we've created something that can stand as an example of great adult content.
Please enjoy!
We are very proud to be included in the Summer of Pride 2020 on Steam. Max Gentlemen Sexy Business! is a game that heavily values inclusivity and there are a lot of great LGBTQ+ games featured in this event happening June 9th-25th. For the duration of the event, we're 20% off! Be sure to check out all the other great games available and on sale now: /36461865/6ad9eead29dfd145eae686f677439805f990ed7a.png
Dear Gentlepersons of culture and taste, Allow me the pleasure of officially announcing the FREE update we've been handcrafting for your explicit satisfaction. The British are COMING! update features Two new datable Characters: Cashious Villionaire and Angel Fullbody. An expanded 3rd run with new mechanics and an integrated storyline. New lunch dates, buildings, upgrades, challenges and more! Dozens of new outfits for characters new and old. Tons of new Gentsona parts. We're so excited to be abl.
Here's what we addressed in Version 1.09 Bugfixes: -Fixed industry awareness bug that would allow the same industry added to both trending and in decline. -Fixed a potential bug that would keep the game paused when exiting from merchant or weekend events -Default Graphics API set to Direct3D9 to hopefully reduce the number of people having crashes at launch. Features: -Secret shhh
Here's what we addressed in Version 1.08 Features: -Improved Save system – should prevent corrupt saves but also allow for recovery from unexpected crashes or corrupted saves. -Angel now gives tips on the loan repayment screen. -Added effect to make event spawns more obvious. Bugfixes: -Fixed the export Genstona image being misaligned -Fixed layer sorting for executive avatars and light poles. -Fixed "Delete All Data" button after last update not working. -Fixed various story errors.
Right out of the oven, here are the hottest new games on Steam from February and boy they are hot indeed. Put those games on the cooling rack and open a window, will you? Games with "sexual content," (in the parlance of professional business speak) do occasionally crack the list of top selling new games but four is quite a feat. There are other trends to note as well: nearly half of the list are newly in Early Access or have just graduated from EA to a complete release. It was a big .
PC SYSTEM REQUIREMENTS
MINIMUM SPECS:
Minimum:
Requires a 64-bit processor and operating system
OS: Windows 7 or higher
Processor: 2.2 GHz
Memory: 4 GB RAM
Graphics: DirectX® 9 Compatible Graphics Card
DirectX: Version 9.0a
Storage: 3 GB available space
RECOMMENDED SPECS:
Recommended:
Requires a 64-bit processor and operating system
MAC SYSTEM REQUIREMENTS
MINIMUM SPECS:
Minimum:
Requires a 64-bit processor and operating system
OS: OS X
Processor: Anything from the last 5 years
Memory: 4 GB RAM
Storage: 3 MB available space
RECOMMENDED SPECS:
Recommended:
Requires a 64-bit processor and operating system
LINUX SYSTEM REQUIREMENTS
MINIMUM SPECS:
Minimum:
Requires a 64-bit processor and operating system
RECOMMENDED SPECS:
Recommended:
Requires a 64-bit processor and operating system