Raptor: Cretaceous Island
Built exclusively for VR, Raptor: Cretaceous Island is a first-person shooter that lets you explore an island that has been overrun by deadly raptors. You must survive, whilst trying to complete various missions in order to restore the power and computer systems on the Island. Watch your back!
Game Details
Title: Raptor: Cretaceous Island
Genre: Action, Adventure, Indie
Developer: AVB VR Games
Publisher: AVB VR Games
Release Date: 23 Nov, 2018
Steam: https://store.steampowered.com/app/929230/Raptor_Cretaceous_Island/
Welcome to Cretaceous Island, an experimental dinosaur facility that was built with the sole purpose of bringing the raptor back to life.
With only a few weeks to go until the grand unveiling of the raptors and the facility to investors and executives, all hell breaks loose. Due to a power outage and computer system malfunction, the raptors have escaped from their enclosures and are wreaking havoc on the Island. Wanting to hide the news from the outside world, the executives of Cretaceous Island have ordered all of the workers who are stranded out in the field to restore the power and security systems on the island, even at the cost of their own lives.
Built exclusively for VR, Raptor: Cretaceous Island is a first person shooter survival game that lets you explore an island overrun by raptors. You will play the role of a variety of workers who happen to be stranded in different sections of the island following the power outage and computer system failure. Find and use weapons to survive and complete missions.
– Multiple levels: There are multiple levels to choose from which vary in length and hardness (easy, medium and hard).
– Day and Night modes: you have a choice to play some of the levels in daylight or you can use your head mounted flashlight if you are brave enough to complete the missions at night.
– Some levels will be unlocked as you complete certain levels – forming a small narrative for some of the Cretaceous Island workers
Raptor: Cretaceous Island is still evolving. There are more levels, small storylines, modes and weapons that are coming soon.
Minimum:
Requires a 64-bit processor and operating system
OS: Windows 7 SP1 or newer Processor: Intel® i5-4590 / AMD FX 8350 equivalent or greater Memory: 4 GB RAM Graphics: NVIDIA GeForce® GTX 970 / AMD Radeon™ R9 290 equivalent or greater DirectX: Version 10 Storage: 4 GB available space
Recommended:
Requires a 64-bit processor and operating system
Video Tutorial – Raptor: Cretaceous Island Free Download
Really I think that there is not need to record video tutorial. Instructions below are enough. It's easy to download and install it.
Instructions for Raptor: Cretaceous Island Free Download
Raptor: Cretaceous Island Free Download
Additional Informations about Raptor: Cretaceous Island Free Download
Just remember about checking our website from time to time to be certain you have the latest updated version. If the game will be updated you will can download also Update for Free
The road to discovering Washington's first dinosaur fossil.
On April 10, 2012, two Burke Museum research associates were at Sucia Island State Park with a collecting permit for fossil ammonites—sea creatures with spiral-shaped shells that lived at the same time as dinosaurs.
While scanning the ground for ammonites, they spotted this: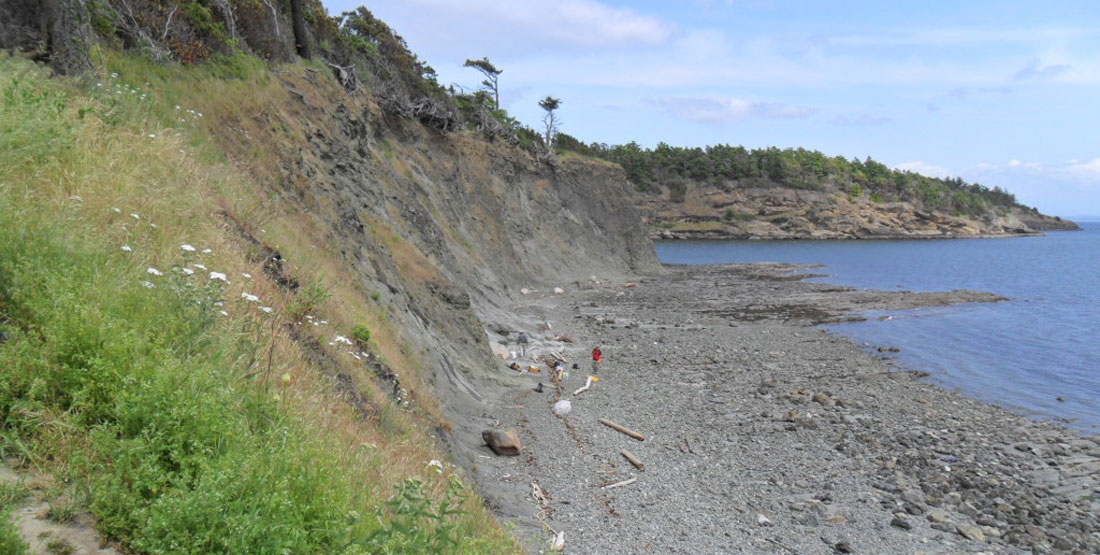 The shore where the fossil was found on the southwest tip of Sucia Island State Park.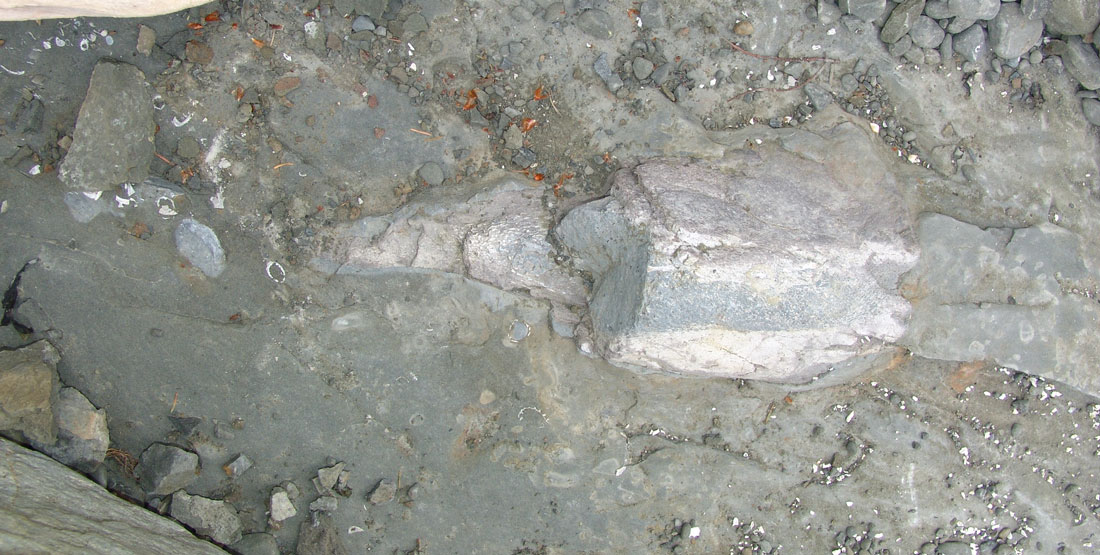 The exposed bone sticks out of the rocky ground.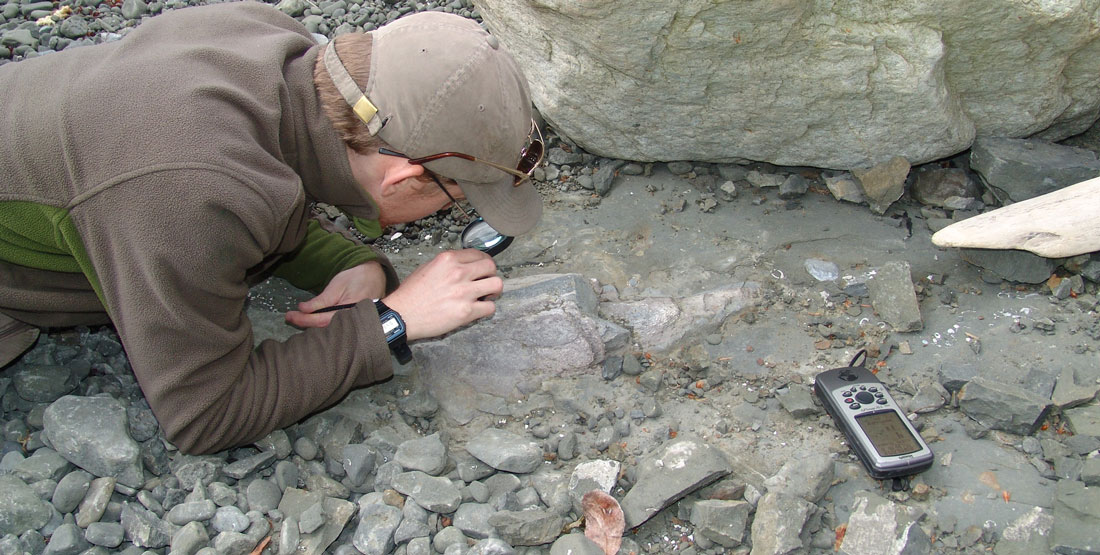 Dr. Adam Huttenlocker, at the time a University of Washington graduate student, examines the first dinosaur fossil found in Washington state.
Most people would have walked right by it. But our keen-eyed paleontologists could tell it was a small section of exposed bone. Since it was embedded in rock, they took photos, recorded the location and contacted our partners at Washington State Parks.
The following month, a crew of Burke paleontologists returned to Sucia Island with permits to excavate the fossil so it could be studied. The shoreline where the fossil was found is now covered by landslides, so it is very fortunate that the Washington State Parks and the Burke Museum were able to excavate the fossil when they did!
Over the next year, Burke paleontologists worked to carefully remove the extremely hard rock surrounding the fossil so they could get a better look at the specimen.
Dr. Sidor and Peecook compared the fossil to other museums' specimens and identified it as a partial left femur (thigh bone) of a theropod dinosaur, the group of two-legged, meat-eating dinosaurs that includes Velociraptor and Tyrannosaurus rex, and even modern birds. "This fossil won't win a beauty contest," Sidor said. "But fortunately it preserves enough anatomy that we were able to compare it to other dinosaurs and be confident of its identification."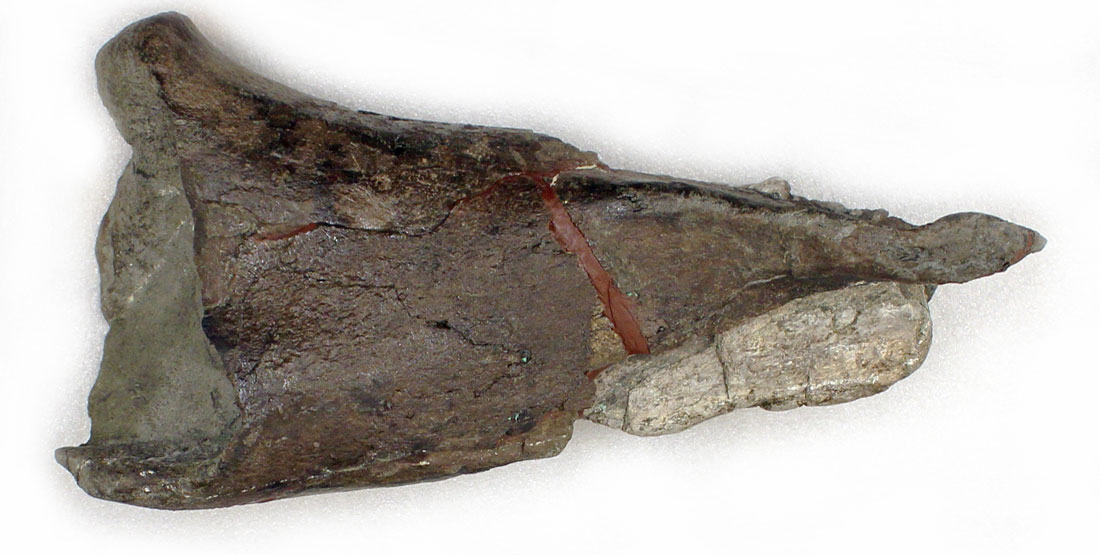 It took nearly a year to remove the extremely hard rock and glue the fossil back together.
The first dinosaur fossil described from Washington state is a portion of the femur (thigh bone) from a theropod dinosaur.
Although incomplete, Sidor and Peecook were able to determine the femur is from a theropod dinosaur for two reasons: 1) The hollow middle cavity of the bone (where marrow was present) is unique to theropods during this time period, and 2) A feature on the surface of the bone (the fourth trochanter) is prominent and positioned relatively close to the hip, which is a combination of traits unique to some theropod dinosaurs.
The fossil is 16.7 inches long and 8.7 inches wide. Because it is incomplete, they aren't able to identify the exact family or species it belonged to. However, Dr. Sidor and Peecook were able to calculate that the complete femur would have been more than three feet long—slightly smaller than T. rex.
We also learned that the fossil is from the Late Cretaceous period and is approximately 80 million years old, based on the age of the marine sediment that surrounded the fossil. This rocky matrix was filled with the fossil remains of tiny sea creatures. So, how did this dinosaur end up in the ocean?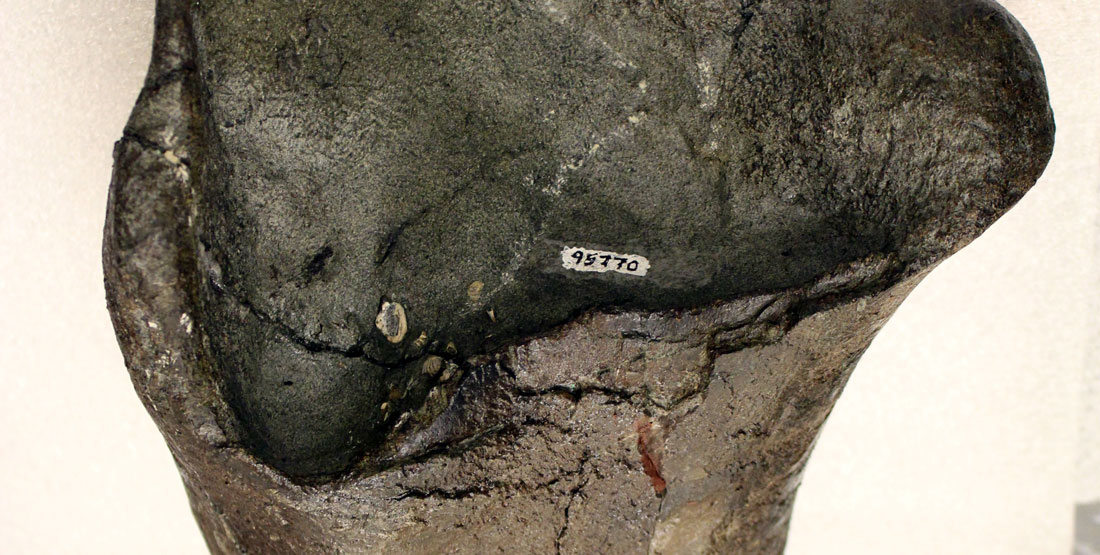 close up of the fossil showing tiny shells attached
The clams found with the bone held the answer. They're so well preserved we can tell they're a species that lived in shallow water. So it's likely that after the dinosaur died, its carcass was tossed by the waves and eventually came to rest on the seafloor among these clams. The rest of the dinosaur was likely washed away or carried away by scavengers.
The ultimate test to confirm this was in fact Washington's first dinosaur fossil was submission of a formal manuscript and the peer review process. Sidor and Peecook submitted the description of the dinosaur to the scientific journal PLOS ONE, where reviewers confirmed their identification
In the end, all that hard work paid off. Washington is now the 37th state where dinosaurs have been found!
"The fossil record of the west coast is very spotty when compared to the rich record of the interior of North America," said Peecook. "This specimen, though fragmentary, gives us insight into what the west coast was like 80 million years ago, plus it gets Washington into the dinosaur club!"
Why did it take so long to find a dinosaur in Washington state? Dinosaurs are found in rocks from the time periods in which they lived (240-66 million years ago). Much of Washington was underwater during this period, so Washington has very little rock of the right age and type. Because dinosaurs were land animals, it is very unusual to find dinosaur fossils in marine rocks—making this fossil a rare and lucky discovery.