Destiny 2 The Reckoning: How to beat tiers 1, 2, and 3 of The Reckoning
Destiny 2 The Reckoning: How to beat tiers 1, 2, and 3 of The Reckoning
By Austin Wood 30 April 2020
How to clear the Bridge of Folly, beat the Likeness of Oryx, and slay the Abyssal Champions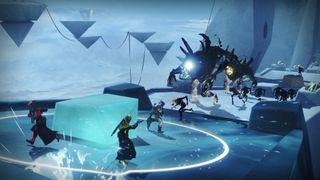 The Destiny 2 Reckoning activity sits quietly in the Gambit playlist, appropriately positioned between Gambit and Gambit Prime. The Reckoning is known as what you play to get Gambit Prime armor, but it's also what you play to get Gambit weapons, so even if you don't like Gambit Prime, there's still a reason to play it. The Reckoning has been nerfed considerably since its release – which was a function of the nerf to Super-regenerating Exotics – so at this point it's pretty tame for a Destiny 2 horde mode. Still, it's got some eccentricities that can catch you off-guard, so we've prepared a full guide on how to clear all three tiers of the Reckoning.
Tier 1
Tier 1 of The Reckoning is short and easy. After you deposit your Weak Mote, jump into the pit under the inverted pyramid to get started.
You'll find yourself in a giant arena filled with Taken enemies of different flavors. Start killing them with whatever you have equipped. As you kill, you'll fill up your Dominance percentage on the left side of your screen. If you stop killing, the percentage goes down.
If you and your Fireteam hit 100 percent Dominance before the minute timer ends, you'll advance to a boss stage. Kill the boss, teleport back to the bank, and collect your reward.
This part of The Reckoning is easy if you're close to Power 650. It gets more difficult when you factor in the daily modifiers like Blackout, which increases enemy melee damage. But if you prepare like you would for a Strike, you'll do fine.
Like with any Reckoning tier, Tier 1 is much easier in a group of friends you can communicate with.
The Reckoning's giant bridge in Tier 2 Bungie
How does The Reckoning work?
First, you'll need to make use of the Weak Synthesizer you've been given by The Drifter.
In matches of Gambit Prime, you'll occasionally get "Synths" drops. They look like that green Gambit Token which the Drifter holds, but in a variety of colours. From what we can tell, they're largely random rewards at the end of matches, however, some Gambit Prime bounties offer them as rewards too.
Video by Esoterickk
Synths correspond to different Gambit Armour. For example, "Collector Synth" for the Collector Gambit Prime Armour set, "Invader Synth" for the Invader set, and so on.
You'll then need to decide what armour pieces you'll want to chase. Say you want to earn the "Collector" armour set, you'd go ahead and use a Collector Synth you've nabbed in Gambit Prime to do so.
Hover over your Weak Synthesizer, interact with it and use the Synth. It'll then drop a special mote in your inventory.
Head into The Reckoning, wander up to the mote bank and deposit this special mote.
Jump into the portal, follow the objectives and do your utmost to survive the onslaught of enemies. If you manage to succeed, head to the mote bank and collect your armour piece!
It's worth mentioning that each armour drop is random, so duplicates are a possibility.
Проверьте ваши учетные данные.

Arc Defender
Похоже, вы входите в систему на новом компьютере или через новый браузер. Для обеспечения безопасности, пожалуйста, подтвердите вашу учетную запись, перед тем как войти в систему. Мы отправили письмо на ваш электронный адрес, содержащее PIN-код. С его помощью вы сможете подтвердить, что вы являетесь хозяином этой учетной записи.
Пожалуйста, введите PIN-код, который мы отправили вам по эл. почте.
The Reckoning Tier 1 Tips
Below we've put together some pointers to help you complete Tier 1 of the Reckoning.
First off, you'll want to be around 630+ Power if you want an easier time with The Reckoning. It's tough as nails if you're coming in at the minimum Power Level requirement.
We found sticking together is the key to success. Going it alone often resulted in our demise as enemies would often swarm and isolate us. Instead, travelling in a pack meant we were all in range to revive one another quickly and use our abilities to complement eachother.
Warlocks Healing Rifts and Well of Light buffs are incredible for the Reckoning. They allow you to sit back and defeat waves of enemies without getting burst down, and in terms of the latter, help generate Orbs of Light too.
Try not to use all of your Supers at once. It's best to stagger their usage so you clear more mobs and generate orbs for eachother, effectively allowing you to string together Super, after Super.
From our experience, Tier 1's modifiers seem to change on a daily basis. Always be aware of what they are and make sure you embrace the playstyle they demand. For example, take the "Restorative Light" modifier. This requires you to pick up motes of light from fallen enemies in order to regenerate your health, otherwise you won't heal up at all. With this in mind, try travelling as a pack, eliminating enemies and rushing through their corpses to pick up the motes of light so you're constantly regenerating health. Playing from a distant won't benefit you, as you won't regenerate health if you don't collect the motes.
ORIGINAL POST BELOW
Уровень 2
Уровень 2 «Возмездия» сложнее и длиннее, чем уровень 1. Убедитесь, что вы близки к мощности 670 и имеете группу друзей, с которыми вы можете общаться. Обратите внимание на модификаторы и эксплуатируйте или избегайте их в максимально возможной степени. Возьмите дальний билд, если Blackout активен. Убедитесь, что ваша команда имеет несколько элементов во время Призмы (потому что только определенные элементы эффективны в определенное время).
После того, как вы сдадите Mote, вы зайдете и выполните Уровень 1 как обычно, хотя с врагами в этом разделе будет сложнее. Это ничто, с чем вы не можете справиться, если вы привыкли к Уровню 1 и имеете достаточно высокую мощность. После того, как вы достигнете 100-процентного доминирования, откроется дверь в задней части арены (вместо босса). Собери свою команду и беги через.
Теперь вы находитесь на мосту над пропастью. Вам нужно удерживать шесть точек через мост, чтобы добраться до другой стороны. Когда вы стоите в каждой точке, волны Taken будут атаковать.
Мы рекомендуем взять Охотника с Тетером и Колодец Сияющего Сияния, чтобы помочь вам выжить. Chain Supers и использовать тяжелые боеприпасы, чтобы пройти через каждый раздел.
После того, как вы захватили все шесть частей моста, враги исчезнут, и портал откроется в дальнем конце. Прыгайте и готовьтесь к бегу.
Tier 2
Tier 2 of The Reckoning is harder and longer than Tier 1. Make sure you're close to 670 Power and have a group of friends you can communicate with. Pay attention to the modifiers, and exploit or avoid them as much as possible. Take a long-range build if Blackout is active. Make sure your team has multiple elements during Prism (because only certain elements are effective at certain times).
After you deposit your Mote, you'll drop in and do Tier 1 as normal, though the enemies will be more difficult in this section. It's nothing you can't handle if you're used to Tier 1 and have high enough Power. After you hit 100 percent Dominance, a door in the back of the arena will open (in place of a boss). Gather your team and run through.
The bridge
You're now on a bridge floating above a chasm. You need to hold down six points across the bridge to reach the other side. As you stand in each point, waves of Taken will attack.
We recommend taking a Hunter with Tether and a Well of Radiance Warlock to help you survive. Chain Supers and use heavy ammo to get through each section.
After you've captured all six pieces of the bridge, the enemies will de-spawn and a portal will open on the far end. Jump through and prepare to run.
Knights and the Hermit
You'll be in some kind of Ascendant Plane, and ax-swinging Knights will be following you. The map looks like a plus symbol, and each of the four ends can spawn an enemy called the Hermit. Ignore the Knights and chase down The Hermit, who has a green symbol above its head.
Remove the Hermit's elemental shield with your weapons or abilities, and kill it. When the Hermit dies, a well will spawn in the area. Standing in it will increase your damage against the Knights, who should be your new focus. Use everything you have on the Knights. We recommend Tether and Well of Radiance here. Take a rocket launcher like Wardcliff Coil in your heavy slot.
When the Knights go down, you'll teleport back to the bank and collect your Tier 2 Gambit Prime armor.
Shade of Oryx
The Shade of Oryx can also appear as a boss in this section, and has exclusively since Tier 3 released. If you end up facing the Shade, scroll down to our Tier 3 section. The boss is the same in Tier 2, just easier.
We're currently not sure if the Knights and Hermit event will be back.
Проверьте ваши учетные данные.

Arc Defender
Похоже, вы входите в систему на новом компьютере или через новый браузер. Для обеспечения безопасности, пожалуйста, подтвердите вашу учетную запись, перед тем как войти в систему. Мы отправили письмо на ваш электронный адрес, содержащее PIN-код. С его помощью вы сможете подтвердить, что вы являетесь хозяином этой учетной записи.
Пожалуйста, введите PIN-код, который мы отправили вам по эл. почте.
The Reckoning tier three – 690 Power (Recommended 680)
Tier three of The Reckoning is nearly identical to tier two, just with higher level enemies and more difficult boss fights. You'll still need to clear the opening horde, move across the Bridge of Folly – with less time to clear each zone – and take down the same bosses.
Mechanically, the Abyssal Champions fight doesn't change between tiers two and three – the Champions themselves are just dramatically tankier. The Likeness of Oryx is also much tankier, and it will summon an extra Ogre with every Counterfeit Gaze cycle. Both fights take longer but play out very similarly. The same strategies will get you through tier three, you'll just need to execute them a little more carefully, and you'll need to be a higher Power level.
As a staff writer and former freelancer, Austin focuses on day-to-day news happenings which serve as the perfect cover-up for his Destiny 2 column. He majored in journalism, loves to hate headlines, and never takes his Switch out of the dock.