Warhammer Underworlds Online
Warhammer Underworlds Online запись закреплена
Друзья, приветствую вас.
Вчерашним патчем был добавлен третий пак нейтральных карт.
Objective Cards Added:
Assassinate, Blooded, Dauntless, Defensive Strike, Tactical Genius 1-3, Tactical Genius 3-5, Victory After Victory
Показать полностью.
Ploy Cards Added:
Darkness Descends, Ephemeral Shield, Illusory Fighter, Improvisation, Inspiration Strikes, My Turn, Shardgale
Upgrade Cards Added:
A Destiny to Meet, Dark Darts, Deathly Fortitude, Incredible Strength, Shadeglass Dagger The Formless Key The Shadowed Key
Warhammer Underworlds Online запись закреплена
Warhammer Underworlds Online запись закреплена
Приветствую вас, друзья.
Состоялся релиз патча 008, а вместе с ним и новой банды – The Farstriders!
Изначально планировалось, что все банды, кроме стартовых, будут добавлены в виде платных DLC, но команда SteelSky решила поблагодарить всех поддержавших проект в раннем доступе. Купившие игру на этом этапе, бесплатно получат новую банду.
Показать полностью.
The glass has been shattered to reveal our newest warband, Farstriders The Farstriders. Farstriders
Along with our latest update:
atCrit Early Access Patch 008: Birds and Guns
A NEW WARBAND?
As we've stated before, the initial plan was to release all future warbands as paid DLC. We had also planned to only release future warband DLC once Early Access had completed. But plans change.
The developers here wanted to thank our amazing players, who have joined us during our early stages of development and have given amazing feedback.
It's because of you that we have been able to evolve and adapt Warhammer Underworlds: Online to the game it currently is, and what it will continue to become.
So to best show our thanks, we're releasing The Farstriders warband FREE for our Early Access.
Farstriders The Farstriders. Farstriders
– Take control of the battlefield with Sanson Farstrider, Almeric Eagle-Eye and Elias Swiftblade; as they use their wayfinding skills to hunt down their opponents and seek liberation from the cursed Mirrored City.
– Each of the Farstriders become Inspired when they complete the round in the enemy's territory.
– In combination with their ranged attacks and ploys, players can easily maneuver these fighters into strong, tactical positions.
Warhammer Underworlds: Online





Warhammer Underworlds: Online is a digital adaptation of the explosive, high-stakes, turn-based strategy tabletop game from Games Workshop that pits mighty warbands from the Age of Sigmar universe against one another in an eternal player versus player battle for Glory. Choose a warband, build your decks and carve a path to victory using dice-and-card mechanics that offer boundless strategic depth.
Trapped within the towering spires of the Mirrored City of Shadespire, four warbands battle it out for survival, each united by a common goal and each with a distinct combat style. Choose to play as the valiant Stormcast Eternals armed with heaven-forged weaponry, or the merciless Blood Warriors of Khorne, tearing apart their enemies with the aid of their loyal Flesh Hound. Or you may prefer the undead Deathrattle, cursed by Nagash and led by a frenzied devotee to the God of Death, or the savage, muscle-bound Orruks, clad in thick plates of rusted metal and smashing everything in their path!
Other warbands are awaiting your orders and will be available as DLC later in 2020!
Your success is measured in Glory points – awarded for achieving objectives and vanquishing your foes. Deckbuilding is the strategic heart of Warhammer Underworlds: Online. Your 20-card power deck is filled with clever gambits and powerful upgrades you'll need to inflict maximum damage. Your 12-card objective deck will shape your tactical approach to a match, allowing you to score Glory by fulfilling specific conditions.
In Warhammer Underworlds: Online cards are split into warband-specific cards and Universal cards. Unlike the physical game ALL FUTURE UNIVERSAL CARDS WILL BE FREE, and will be added to the game in regular release packs. Diversify your decks with new cards, and dive back into competitive ranked play!
Joining during Early Access will get access to four exclusive warband skins only available during the Early Access period. You'll also have a chance to help shape the game – join the conversation in the official Discord server! We read ALL player feedback.
Warhammer Underworlds: Online
Home
Search
Deals
Sales
Languages

EnglishEN
RussianRU
GermanDE
SpanishSP
ChineseCH
FrenchFR
PolishPL
TurkishTR
SwedishSW

Companies

Summary
2K2K
ActivisionAc
EAEA
BethesdaBs
KleiKl
ParadoxPd
SEGASe
UbisoftUb
ValveVl
WarnerWa

Genres

ActionAc
StrategySt
RPGRp
IndieIn
AdventureAd
SportsSp
SimulationSi
Early AccessEa
Ex Early AccessEe
MMOMo
FreeFr

Tags

Summary
AtmosphericAt
CraftingCr
ExperimentalEx
Female ProtagonistFP
KickstarterKS
Open WorldOW
RemakeRe
Space SimSS
StealthSt
Warhammer 40KWH
ZombiesZb

Years

Summary
201717
201616
201515
201414
201313
201212
201111
201010
200909
200808

About
Feedback
Login
Register
Warhammer Underworlds: Online
Warhammer Underworlds: Online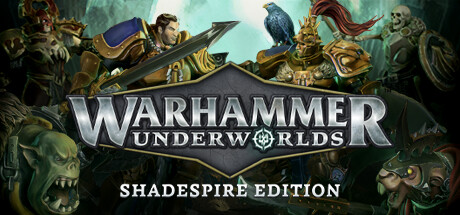 Lead your fighters to Glory in the ultimate PvP dice-and-cards strategy combat game. Warhammer Underworlds: Online pits mighty warbands against one another in an eternal battle for glory in the realms of the Age of Sigmar.
Store | Hub | SteamDB | Site
Developer: Steel Sky Productions Publisher: Steel Sky Productions
Genre: Strategy
Languages: English, French, Italian, German, Spanish – Spain, Russian
Tags: Turn-Based Tactics (265), Card Battler (261), Grand Strategy (254), Tactical RPG (251), Wargame (247), PvP (239), Casual (236), Competitive (236), Turn-Based (232), Board Game (231), Card Game (226), Tabletop (222), Turn-Based Strategy (213), Character Customization (206), Strategy (196), 3D (144), Top-Down (142), Turn-Based Combat (137), Deckbuilding (132), Warhammer 40K (114)
Category: Multi-player, PvP, Online PvP
Release date: Apr 21, 2020
Price: $29.99
Old userscore: 72% Owners: 20,000 .. 50,000
Followers: 16,169
Peak concurrent players yesterday: 24
YouTube stats: 340 views and 1 comments for top 50 videos uploaded last week, 1 new videos uploaded yesterday.
Steam Spy is still in beta, so expect major bugs.
Owners
Audience (2 weeks)
CCU (daily)
CCU (hourly)
Followers
Twitch (daily)
Twitch (hourly)
Reviews
More like this
Related
Tags over time
Playtime (total)
Playtime (2 weeks)